Gaming Manufacturer Claims Automated Baccarat Robot Dealer Ready for Casino Floors
The impact of artificial intelligence on online casinos is drastic. Not only does it reduce cheating and improve customers' experiences, but it also enables service providers to enhance players' engagement and security, as well as solve problems faster and more efficiently. However, the advancement in new technologies is also a wonderful chance for establishments, both online and offline, to change their perspectives and viewpoints on gambling in general. Many people doubt modern solutions can become significantly better or different from what is presented now. The LT Game's recent innovation will surely blow the minds of such gamers — automated dealers for the robotization of table games are ready to bomb the global industry.
Disruptive Technology
This brand is known for its developments in gaming production and supplementary services for free and real money gaming management. According to the team's interview for the Macau News Agency, such creations will be soon available at land-based establishments overseas. The first third party to confirm the news was Paradise Gaming. This technology is aimed at providing exceptional music and impressing with a high-resolution screen, making Baccarat rounds more thrilling and exciting. Although the innovation isn't accessible in a vast number of locations yet, the situation will be gradually changing for the better.
LT Game, as a subsidiary of Paradise, followed a couple of goals, designing these robotized table game dealers. Apart from the pursuit of innovation and progress, there is a practical value in this move. According to the Macau gambling laws, only a limited number of dealers can be hired. If they aren't the residents of SAR and live outside the region, they won't be legal workers. So it is a wonderful opportunity to complement the staff without hiring more personnel from a restricted zone. At the same time, it is a more cost-efficient decision in the long run. Purchasing robots can be expensive, but paying salaries to human dealers isn't significantly cheaper.
Just for your to analyze, here is some statistical data. In the second quarter of 2019, over twenty-five thousand experts were employed to operate land-based tables in Macau. Per dealer, gaming institutions had to cover their salary of around thirty thousand dollars on a yearly basis (and these are only average rates). For the rest part of the region, the median capital-raising abilities were poorer. In 2018, it was stated at the rate of slightly less than two thousand US dollars. Given the need to expand and accommodate larger audiences, hiring new workers can be problematic.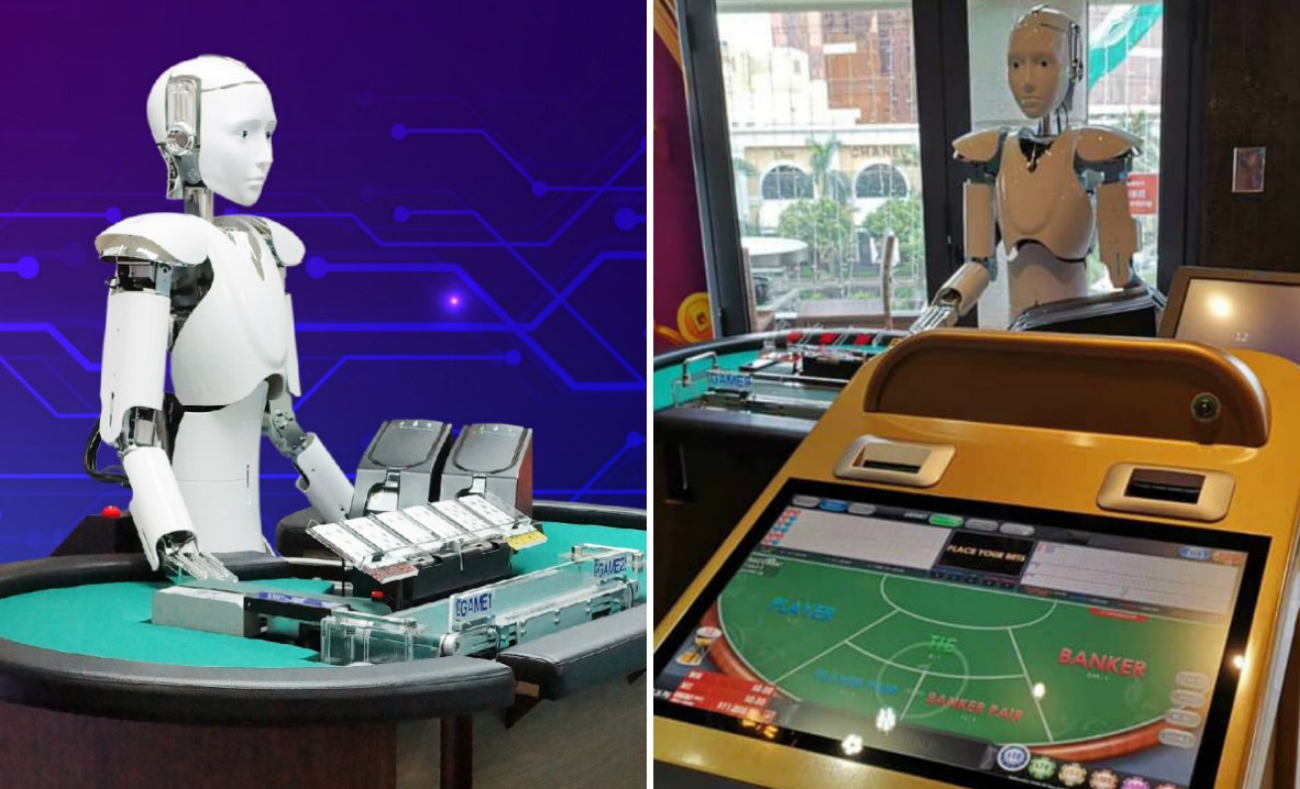 In the conditions of the lacking manpower, the highlighted innovation is key, Ross Zhang, LT Game's engineer, believes. Frankly speaking, the trials to implement robotized dealers has already become an ongoing process. The first attempt was held back in 2015 in one of the Macau land-based establishments. The company's prototypes are constantly improved to serve better. The latest versions undergo testing by the Macau authorities.
Embracing Robots?
In the market, the opinions on the analyzed technology are rather controversial. In 2015, one article at Bloomberg didn't applaud this idea. On the contrary, utilizing such "creepy" plastic-and-metal constructions wouldn't succeed, compared to the performance of human dealers. Analogous artificial intelligence (AI) technologies have already proven their efficiency in Macau resorts, tracking gamblers' habits among other activities. This helps the personnel and managers coordinate their work better, enticing users who usually spend more on the casino floor.
That attitude has mostly faded into obscurity. Nowadays, both online and offline casinos keep up with the latest trends, welcoming innovations. In the case of virtual venues, their benefits will be applied for live dealer games, when Baccarat rounds are shooted to be streamlined for numerous users in the network. Stephen Schwarzman, a famous billionaire in the gambling market (he signed a huge deal with MGM Resorts a few years ago), is convinced that AI is going to reshape the current market enormously. It sounds right, doesn't it?
Recommended Baccarat Online Casinos in Singapore
---
IVIP9 · Jack998 · UEABET · Megapari · 1xBet · Yes8 · Aw8 · BetWinner · K9Win · 77bet · 188BET · MelBet · Ole777