Multiplayer Baccarat from Betixon
Immerse yourself in the exciting world of Multiplayer Baccarat, the captivating online game designed by Betixon. You can experience all the action right here on this page, and the best part is, it's completely free! No need to sign up, download anything, or install any software on your device. If you ever run low on play money, a quick game restart will refill your balance, ensuring your gaming excitement never ends. Just click "Play for free," wait for the game to load, and begin your thrilling baccarat journey.
Play Free Demo Baccarat Online
About Free Multiplayer Baccarat from Betixon
Betixon's Multiplayer Baccarat offers a user-friendly and uncomplicated visual layout. The screen is neatly split into player and banker sections, making it easy for players to bet and follow the free game as player and banker cards are unveiled.
The visual design maintains an elegant simplicity, featuring a subtle gray background that provides a serene backdrop. The player and banker sections are tastefully decorated in soothing blue and majestic red hues, adding a touch of sophistication to the gaming environment. This emphasis on simplicity creates an atmosphere that keeps the primary gaming experience at the forefront.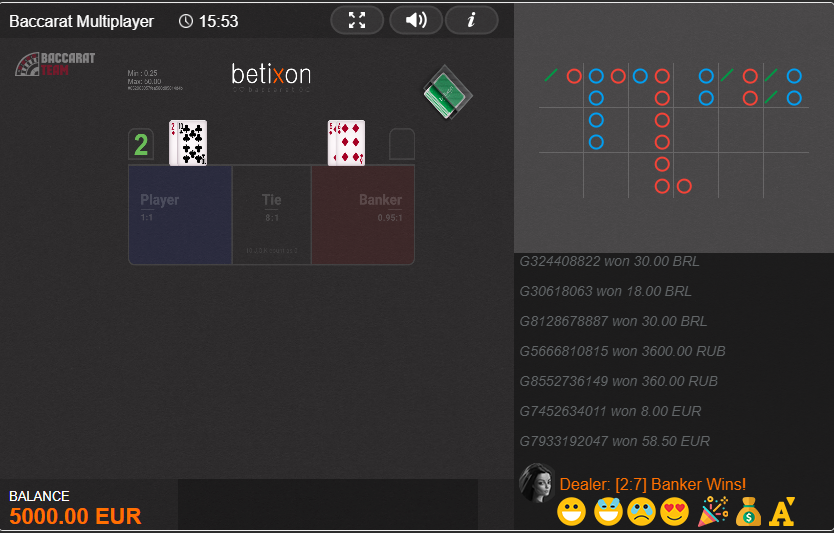 In the realm of sound, Multiplayer Baccarat achieves a harmonious equilibrium. Its subtle yet melodious soundtrack establishes the ambiance without overpowering the senses. The dealer's announcements punctuate the gameplay, offering timely guidance on the game's development and celebrating your victories. Essentially, Multiplayer Baccarat's design and soundscape combine to craft a tranquil yet captivating backdrop for an unparalleled baccarat experience.
How To Play Free Multiplayer Baccarat
Multiplayer Baccarat adheres to the traditional gameplay found in all baccarat variants. Players face the timeless decision: place their bets on the player's or banker's triumph, with the extra opportunity to wager on a potential tie result. An interesting element to note is the house's 5% fee on banker wins, subtly shifting the odds slightly in favor of the player.
| | |
| --- | --- |
| 🎰 Name | Multiplayer Baccarat |
| 🕹️ Software | Betixon |
| 📱 Mobile Play | ✅ |
| ⭐️ Rating | 9/10 |
| 💰 Minimum Bet | $0.25 |
| 💰 Maximum Bet | $50 |
| 🎲 Side Bets | ❎ |
However, what truly distinguishes Multiplayer Baccarat is its dynamic social component. Within this virtual arena, multiple players can actively participate at the same time, adding an immersive layer to your gaming experience. As bets are made, you gain a captivating insight into the strategies of your fellow players, observing their decisions and the risks they're willing to take.
In each exhilarating hand, you'll encounter a unique blend of strategy and camaraderie, but patience is also a requirement. A brief 25-second betting window separates each hand, allowing players to carefully consider their next moves and observe the choices of others. Multiplayer Baccarat goes beyond being just a game; it's a shared adventure where the cards reveal not only fortunes but also the tactics and audacity of your fellow participants.
Conclusion
With the expertise of Betixon driving it, Multiplayer Baccarat delivers a timeless interpretation of the cherished baccarat game. This virtual gem doesn't rely on flashy graphics or complex side bets; instead, it thrives on the exhilarating speed of gameplay and the enjoyable camaraderie of multiplayer interactions.
Discover the true essence of baccarat, where the primary focus is on the cards, the competition, and the thrill of each hand. No unnecessary embellishments or distractions—just the heart-pounding excitement of Multiplayer Baccarat, where players unite to savor the core of this classic game.
🆓 Is it possible to enjoy a game of Multiplayer Baccarat without any cost?
Certainly! You have the option to play Multiplayer Baccarat for free using its play mode, which doesn't require you to place real-money bets. It's an excellent opportunity to practice and become familiar with the game. Additionally, Multiplayer Baccarat is designed to be accessible on various devices, such as mobile phones and tablets, making it convenient for players to enjoy the game while on the move.
Play Other Baccarat Games Free