CreedRoomz Unveils Innovative "Two Hand Roba Baccarat" Live Baccarat Edition
Introducing a groundbreaking addition to their suite of iGaming offerings, CreedRoomz, the leading provider of live casino software and services, has proudly unveiled their latest creation: Two Hand Roba Baccarat. This innovative release marks a significant leap forward in the world of online gaming.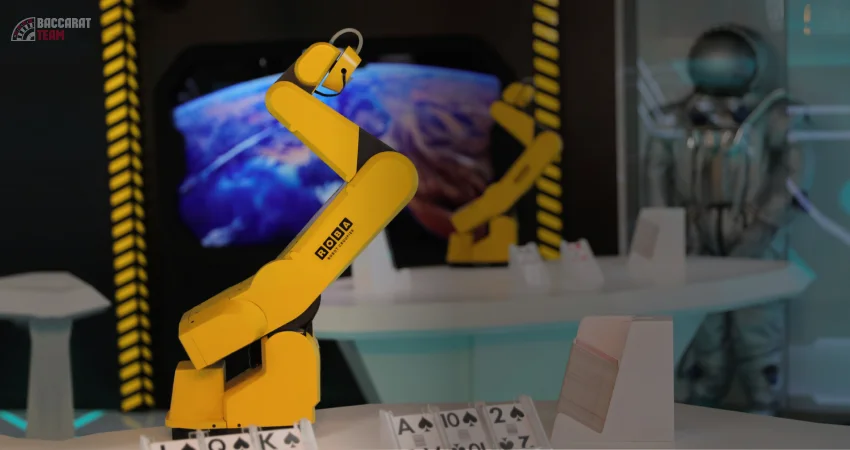 Two Hand Roba Baccarat
Online Baccarat, renowned globally as one of the most captivating casino games, takes on an entirely new dimension with the infusion of technology. In a pioneering move, CreedRoomz has introduced not one, but two robot croupiers into the mix, revolutionizing the player experience. This visionary approach has redefined the very essence of the game, embodying the spirit of innovation that CreedRoomz is celebrated for.
The advent of Two Hand Roba Baccarat ushers in a wave of exhilaration, as players now have the opportunity to engage in more rounds, accelerating gameplay and heightening the prospects of winning. Through this ingenious concept, CreedRoomz has succeeded in crafting an entertainment spectacle that transcends the ordinary, setting the stage for an entirely novel level of engagement and anticipation.
In a realm where evolution is the key to sustained excitement, CreedRoomz has once again proven their mastery by delivering Two Hand Roba Baccarat — a live game that not only respects the heritage of traditional Baccarat but also catapults it into a new era of interactive amusement. With this remarkable offering, CreedRoomz has cemented its position as an industry trailblazer, captivating players and reshaping expectations in the realm of online gaming.
About CreedRoomz
Fresh off a dynamic showcase at the esteemed ICE London 2023, CreedRoomz made waves by unveiling an impressive array of 19 in-house crafted live casino games and a suite of innovative solutions. The event served as a fitting stage for the company to demonstrate its commitment to cutting-edge gaming experiences. Hot on the heels of this success, CreedRoomz made a striking presence at the ASEAN Gaming Summit held in the splendid setting of the Manila Marriott Hotel, Philippines. This recent engagement solidified the company's foothold in the Asian gaming scene.
While commanding attention at the ASEAN Gaming Summit, parent company BetConstruct also emerged as a force to be reckoned with. With accolades in tow, including the prestigious One-Stop Platform Solution and Online Sports Betting Solution awards, BetConstruct showcased their prowess in creating comprehensive and seamless solutions for the gaming industry.
The Asia Gaming Awards, a highlight of the event, gathered luminaries and key players from across the globe. The occasion not only recognized exemplary accomplishments within the gaming realm but also provided a platform for industry titans, ranging from operators and regulators to suppliers and service providers, to showcase their latest innovations.
In the dynamic and ever-evolving landscape of gaming, CreedRoomz and BetConstruct have undoubtedly left an indelible mark through their participation in these groundbreaking events, underscoring their dedication to pushing the boundaries of gaming innovation and celebrating the strides made within the industry.