7 Biggest Baccarat Legends
When it comes to gambling, people always expect to hear about success stories and how lucky ones hit the jackpot. Their attention is typically focused on so-called high-toll solutions, which combine great prizes with the opportunity to place big stakes. Baccarat is a wonderful sample here. A few really know that this game was once accessible for wealthy noble players only. So it is clear a lot of legends have been connected with this gameplay since then. The opposite side of the coin also exists. As there are captivating folk tales and proven facts about winners, there are heartbreaking narratives as well. Unbelievable losses often lead to unprecedented outcomes. One punter achieved twenty million US dollars for wagering Baccarat at two gambling centers but then lost all the pool through lawsuits. Another player became famous for almost bankrupting the Taj Mahal Casino of Donald Trump and later being murdered with a katana for losing a large sum of cash. The luck isn't on gamblers' side, as you see. This makes the related stories even more intriguing to know. Keep on reading this article to get acquainted with even more impressive legends, which was possible through the Baccarat gameplay. Onwards!
Tommy Renzoni
Baccarat's roots trace back to ancient times, but its presence in different regions started not so long ago. The game had a magnificent journey across the Atlantic Ocean, having covered over seven thousand kilometers of the way from France to the target destination. The first country where this wagering entertainment was popularized was Argentina. The hero of this Baccarat development stage turned out to be Frances Renzoni, nicknamed Tommy. With the expansion of the game, it appeared in Cuba, from where the man was. His contribution is second to none — he was the person who stood behind its introduction in Las Vegas casinos:
Once Tommy worked as a manager in his native place's hotel.
After he moved to the USA, he contracted local casinos with the offer to introduce Baccarat to other players.
One of the parties that agreed was the Sands casino. They established the solution as a wealth-oriented activity, suitable for high rolling. The hall was a luxury too.
The decision was successful, which made Punto Y Panco (that's how the Cuban version was known) a widespread hit among American gamblers and land-based providers in the nineties of the twentieth century and afterward.
Later on, other versions were modified, including the so-called Mini Baccarat.
Although the relation to winning cash within Punto Banco gameplay isn't direct, his crucial contribution to the overall activity popularity and prestige in the USA isn't under debate. Apart from becoming the American Baccarat father, this person also was recognized as a skilled and educated fan of the gambling market in general. You can still find two of his published works on Baccarat (created back in 1973 and four years later) online and on the bookstore's shelves.
To understand his mindset in more detail, here are some viewpoints he shared in his books. If the hands are favorable for the player three times in a row, don't fall into the gambling fallacy by trying to place a stake of all your bankroll on the Banker's win. You can either select the Player's hand again or stand the bet. Your loss won't be critical in this case, letting you avoid a prospectively bigger failure. Playing offline (and online too), it is crucial to remain emotionally and mentally independent from other gamblers' actions. Betting against the trend can engage you in even more severe wagering. If you keep betting on the stake because you are committed to it, the probability of huge fortune losses is right around the corner.
They won't sound like a completely new truth for modern gamblers though, but they reflect the beginning of the Baccarat era in America. Renzoni wrote that wagering with a trend would be helpful. Even though this tactic doesn't work under modern conditions and due to the fact odds are usually unchangeable, it doesn't reduce his professionalism and premium-class gut on worthy and profitable innovations.
The Greek Syndicate
In the majority of cases, gambling isn't something well-planned: a lot of punters simply rely on their luck and pay zero attention to winning strategies to improve their success rates. Preferring skills over random results was the path for the well-known Greek Syndicate. This title is commonly associated with the name of a mafia gang, but the reality is different. Hitting Baccarat and obtaining mind-blowing prizes weren't impossible tasks for the syndicate's members. Overall, there were five of them, and they are still considered the best gamblers on Punto Banco.
The name becomes self-explanatory once you are aware of the interesting fact about this community — its founders were from Greece. First, two friends, namely Nicolas Zographos and Eli Eliopulo, moved to France. This country seemed attractive largely thanks to its favorable gambling conditions and welcoming new personas into the market. Mr. Zographos was the head of the organization, fueling its success. Thanks to his outstanding memorization abilities and mathematical talent, it wasn't difficult to take advantage of the shoe and check what cards will appear in hands in the upcoming rounds.
They get acquainted with the third member of their team, Zaret Couyoumdjivan, who had managed to become a professional player by that time. Their bankroll was initially sponsored by the fourth companion, Anthanase Vagliano. He rose capital through shipping operations. The only thing left was to come across the last puzzle piece. Francois Andre was their final lucky star. For around two decades, they visited local casinos and traveled to the most recognizable gambling locations, including Monte Carlo.
They tried their skills in other games too, but Baccarat was their genuine pleasure and professional field. After the thirties of the twentieth century, they were still on the go. However, their honored time came to the end at the beginning of the Second World War. Back then, numerous gambling establishments were simply closed, and several lands restricted wagering opportunities or banned them at all.
Archie Karas
Here is another representative of the legendary Baccarat family, who was also born in Greece. Unlike other representatives on the list, he didn't have a huge initial bankroll of his own — Archie used loan techniques in order to succeed. The income was impressive, and it is definitely a success story of how ten thousand US dollars can be transformed into forty million. Also known as The Run, Mr. Karas is commonly referred to as the gambler with the most excessive punting session of all times. What you should know about this persona is described below. In 1992, the man moved to Las Vegas. He borrowed the aforementioned sum from his poker buddy and engaged in the gambling market as well. The first bankroll he did win was seventeen million US dollars. Apart from punting on poker, he also played pool.
Later on, he gained so much power and reputation in the market that no other gambler would love to fight against him. The list includes such poker celebrities as Chip Reese. Since he couldn't play his favorite card game anymore as he wanted and could, Mr. Karas experienced what the craps were. Your guess is correct: he also succeeded and increased the pool of wins by six million dollars. By the end of 1995, the total capital the man had was forty million US dollars already, so the assistance of professional guards came in handy. That was the peak of his winning line. Once he experienced Baccarat, his losses superseded his victories — eleven million on Baccarat, two on poker, and then seventeen million on Punto Banco again, and so on. All in all, Mr. Karas regained his powers and returned back as a winner. However, his success was less impressive than the first strike in the gambling market.
John W. Gates
This hero of legendary gambling on Baccarat can definitely compete with the Greek Syndicate for the title of the most skilled and successful punter. Taking into account that his career took place earlier, he inspired many more other gamers in the industry. John was born in Chicago in 1855 and had to work hard to earn for living. He started as a person who sold firewood and continued as a businessman distributing barbed wire. How did his interest in gambling occur?
During his initial working steps, Gates got acquainted with railroad personnel and engaged in local pastimes — playing cards. The gambling industry has had a long way before more countries have started legalizing this market. So back then, home wagering sessions were natural. John was among those punters who couldn't help their desire to invite guests and create casinos out of their living spaces. This person could play Baccarat outdoor, for instance, during his train journeys from his hometown to New York and vice versa.
Once upon a time, John decided to make a breathtaking stake, which equaled twenty-seven million dollars (as per current currency rates, the sum reaches one mission dollar), and his fellow players were forced to do the same. The name of his rival faded into obscurity, but there are a few moments known about that unique experience. Gates played the role of the Banker. The partners agreed on one special condition — three hands dealt with in total. The player's task was to select whether one or both sets of cards on the table would be considered for evaluating the hands' scores. John had one playing hand in turn. Here is a quick note for beginners who don't know the "cheval" outcome. Playing both hands for the player can lead to double loss, a tie with one success and failure, and an absolute victory on the two hands.
Their match finished in a draw, which meant they literally exchanged the stakes and remained with their original bankrolls. This story proves one interesting feature of John's character — he was ready for the battle and willing to play a lot and place large stakes. Your expectations are right, and the highlighted episode isn't the only experience of the kind for Mr. Bet-a-Million: Unlike her husband, Mrs. Gates wasn't captivated by gambling. John did come up with a brilliant idea of how to preserve their family relationships and continue his wagering hobby — he simply prepared diamonds for her each time, she was ready to burst into negative emotions from poker games at their home.
Apart from Baccarat, John Gates was a fan of poker too. There is another hearsay story, according to which he joined the round of his friends and spent time wagering for five consecutive days without a single moment of rest. Sports betting was a familiar activity for the man. Once he spent seventy thousand US dollars for horse racing stakes. His reward was more than eight and a half times higher than his original wager. There are multiple related stories. There is nothing else necessary to understand the personality once you know he even wagered on the fastest drops falling down on the window.
Akio Kashiwagi
Another person who combined a job with gambling success is also called the Warrior for his talents. Unlike the previously emphasized persona, Akio succeeded in China and raised capital in the real estate market. According to some research, his total fortune exceeded one billion US dollars. Given such huge assets, high rolling wasn't a problem for him, despite potentially extreme losses.
Mr. Kashiwagi played in several American casinos and was once included in the list of premium-league punters of one establishment in Las Vegas. Massive stakes fueled different stories about his gambling career. Akio respected Baccarat, so he could easily spend multiple hours straight and keep up on wagering large sums. There were witnesses who watched him playing eighty hours in a row and staking one hundred thousand US dollars per hand. If the Baccarat rules could've handled more, he would've certainly doubled his bankroll per turn.
In 1990, his high-rolling strategy nearly ruined the Taj Mahal casino. The betting pool was around twelve million US dollars per round, and the player managed to raise as much as ten million before the luck betrayed him. Trump didn't want the original betting plan to go on, so he switched the dealers for female representatives and eventually prevented Akio from achieving the required limit. The game was supposed to continue to the twelve-million range, but it finished with Trump's victory.
Unfortunately, that was the last wow story in Akio's life since he was killed a couple of weeks later after this visit, namely, in 1992. Do you remember a person who was killed with katana? That was him — over one hundred wounds. He died and didn't manage to pay off his debts to a few casinos to the full. The case of his murder remains unsolved. There are suggestions that everything could happen because of Akio's connections with the Yakuza, but the truth is also buried in the grave.
Kerry Packer
Gambling is popular not only in Europe or the USA. In Australia, you probably won't be able to find a more distinguished member of the betting and gambling industry. This media tycoon was even considered the richest man in the country. Given his huge fortune (at the time he passed away, his net worth reached more than six billion dollars), placing large stakes felt like a cup of tea for him. His gambling story is full of rises and falls:
In 2000, he caused the biggest quick failure in Las Vegas — three days of playing Baccarat made him spend more than thirteen million sterling pounds with no monetary feedback.
That year, his total losses were calculated and resulted in around eleven million sterling pounds.
Thanks to his ability to calculate in-game odds promptly and remember the cards' flow in the show (his photographic memory helped a lot), he was a skilled Baccarat player. So such victories as thirteen million sterling pounds per session weren't random.
A lot of winning rounds were possible thanks to his sponsorship. Among the personalities who once used his fortune as their own bankroll, there was George Hamilton. On the contrary, he did like to attract the attention, so an oil rig owner from Texas chose to run away from the casino, refusing to put at stake his worth of one hundred million US dollars.
Phil Ivey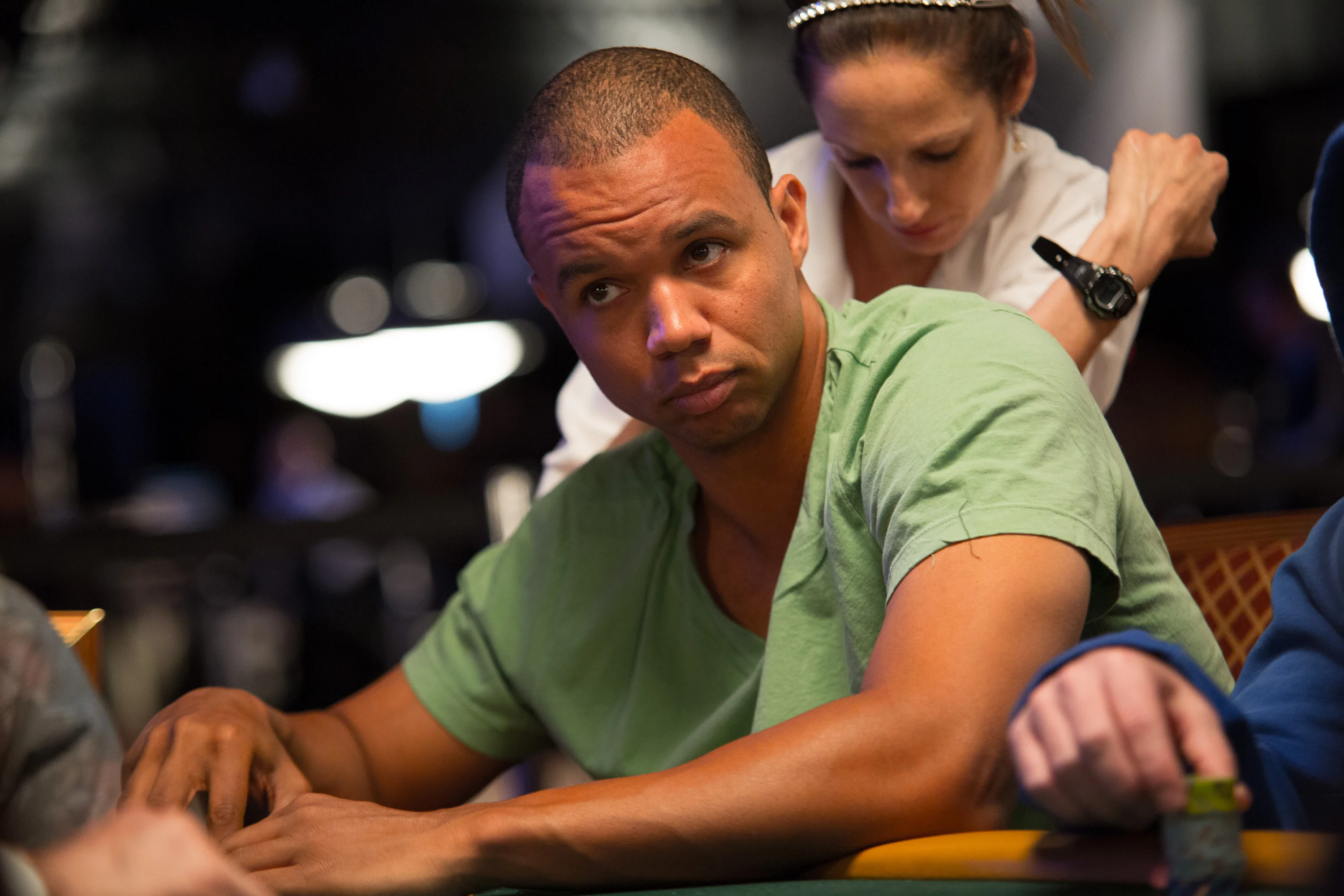 Born in 1977, the man has become one of the most famous and richest talents in the gambling market. First and foremost, people know him as a skilled poker player. There were several competitions he won, including live tournaments and such well-established battles as the Word Series of Poker, where he received ten gold bracelets and more than twenty-five million US dollars in cash. Until 2011, just in four years, he managed to build a fortune of more than twenty million US dollars solely on internet-based gambling.
The analogous sum was won by Phil Ivey in the partnership with Mr. Sun, nicknamed Sun. However, they wagered Baccarat, which only proves this game is suitable for high rollers. They used a so-called edge-sorting technique to increase their winning chances. The basic aspect of this approach is to find visual deficiencies of card decks and notice flawed backs. For instance, Gemaco used a slightly different design for certain card values, which lets interested parties catch these divergences and predict what card comes after a unique diamond pattern on the purple background. Here is how their tricks worked in practice:
Sun and Phil did perform well as a team, but they had different tasks and objectives to complete. Kelly was responsible for the realization of the previously highlighted technology. Taking into account that it requires a lot of attention, the distance between the viewer and hands can complicate the challenge. The first thing the two requested from casinos, where they played, was to deal with dealers who could communicate in Mandarin Chinese.
These requests seem strange for land-based establishments' managers, but they did favor players largely thanks to their huge stakes — one million US dollars to wager. As for the language, it is a native one of the lady on this playing team. What's more, it was easier for Sun to trace cards and get the dealer to deliver cards with a 180-degree rotation move. Last but not least important, their technique was impossible without Gemaco decks, and this request was satisfied as well.
They won a lot of cash in such a way but didn't manage to receive the whole prize. The casino in Atlantic City, where they gambled, didn't initially let the partners "withdraw" the funds, promising to deliver them after bank holidays. In London, the casino didn't cover a penny from the won pool after they checked the cameras and how the game was held. A few lawsuits were initiated, and Kelly and Phil lost the case. Their actions weren't considered criminal cheating, but the approach was certainly overwhelming and crossed the line of what can be considered normal for typical wagering.
Conclusion
For more attentive readers, it is clear that gambling isn't only about winning huge prizes. This market presents numerous experiences for interested parties, and far from every story has a happy ending. Once some members of the community enter the hall of fame for their unbelievable capacity to punt and win short-term or long-term rounds, others are notorious for spending huge parts of their fortune in casino history. All in all, both skills and luck are reasons for potential success, even if you decide to favor such simple games as Baccarat. There is also no uniform approach on how to catch your lucky star — it is always an error-and-trial combination.