Review
1X2gaming is a well-known brand in the online casino sector. It is in charge of creating a large number of baccarat free games for players and operators all around the world. It's no secret that they reinvented classic casino games by giving them new appearances and mechanisms.
When you look at the company's game collection, you'll see that they've revolutionized such games. Their 3D baccarat demo version is one example. It attracts players' attention by combining basic gameplay and intriguing designs. It's a 3D reimagining of a traditional casino game.
1X2gaming Baccarat General Information
The first thing that you'll see is the amazing design the creators have put together. You can see the better part of the table which has a dark green surface. In the upper part of the table, you can see some chips. Below them are Player and Banker sections where the cards for both parties are dealt.
The wooden edge of the table has the player's options on top. There's a range of chips you can bet. After choosing a chip you may choose to double the amount. Additionally, you have the option to re-bet or place the same bet as before. Moreover, you also have the option to turn on fast play. This causes the cards from the deck to be dealt much faster than in normal mode.
Another feature this game has is a history tab on the left side of the screen. After clicking it, you'll be able to check the results of the previous rounds. In the upper right corner of the screen, there is a menu icon. It displays your bet history, baccarat regulations, and re-bet and quick play choices. It also contains a button for turning on and off the speakers and music.
The Minimum and Maximum bets are listed beneath the menu icon. Your balance is displayed in the top left corner, and your most recent win is displayed below it. Finally, the game is available for both PCs and mobile devices including tablets and smartphones.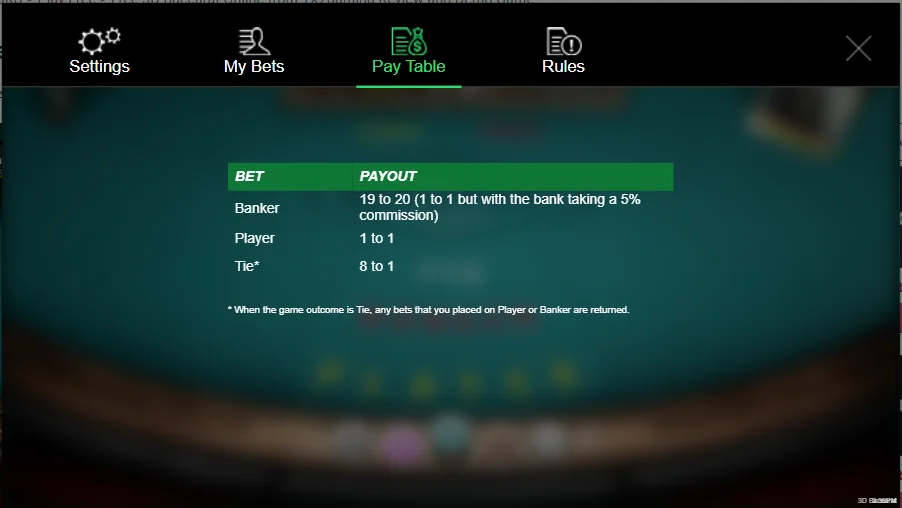 How To Play 3D Baccarat From 1X2gaming
By now you probably know how simple baccarat is to learn. If you're new to the game then you can read the baccarat rules in the Rules section of the Menu in 3D Baccarat. It's as simple as that. You have 3 betting options when it comes to this play-free baccarat and they include the Banker, Tie, and Player bet.
When it comes to 3D Baccarat these options are displayed clearly. They're set above the table's edge. First, you click on the amount you want to bet and place it in one of the three tiles. Then hit deal. After the cards are dealt you'll see the outcome of the game. When it comes to the betting range you can place bets from $0.5 to $500.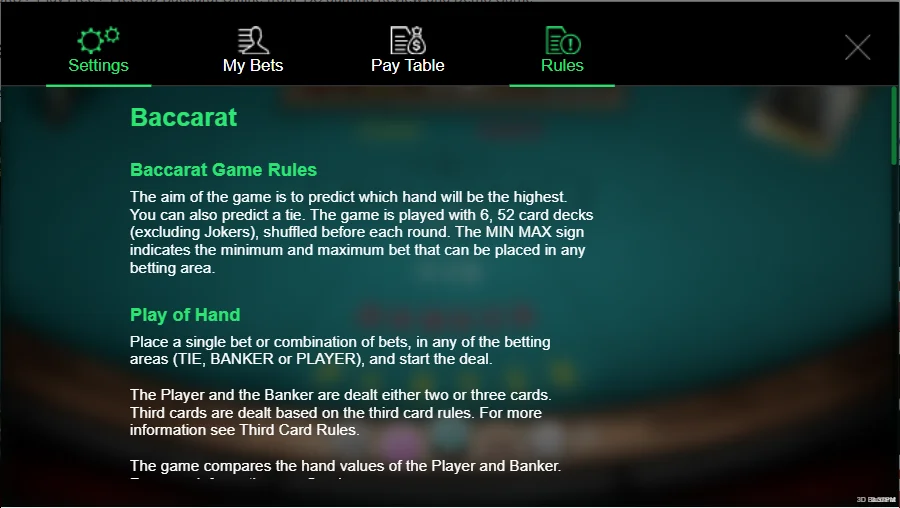 Conclusion
1X2gaming is a top-tier developer when it comes to game development. The firm puts in a lot of work to create the games, which is why it has a high reputation. Their free 3D Baccarat game demonstrates how seriously they take casino games. The game has an easy-to-use UI and a customizable playing style. In other words, it is appropriate for more than one type of baccarat player. When you combine that with the intriguing design, you get a fantastic baccarat game. If this seems like your type of game, you should definitely check it out.
Advertising Disclaimer
TurboVegas
8.8/10
Welcome Bonus
Fortune Wheel
T&C apply
TurboVegas Casino will delight you with its promotions section that offers a great assortment of rich and generous bonuses and rewards.
Are There Any Special Features?
This is a straightforward approach to baccarat that avoids superfluous frills. One of the advantages is that it is simple to learn and play, especially for newbies. There are no side bets or complex routines to deal with. This simple method also means that the presentation is quite straightforward, with an easy-to-understand card table. The action is likewise rapid, but not so fast that it is difficult to keep up with. It's merely a well-paced baccarat game that keeps you in command throughout. There are no automatically populated roadmaps, however, if you insist on tracking pattern scores, the history grid can help.
How to play baccarat online?
In order to play online games, gamers need a good internet connection and a gaming device. It can be a laptop, PC, smartphone or tablet. Then the player must register with the casino operator, deposit money and choose online or live baccarat from the offer of casino games. Learn the rules and strategy of baccarat before you play.
Play Top Popular Online Baccarat Games Free